We accept most common forms of payment, including Visa,
Mastercard, American Express and Discover. Credit card
payments can be made only through PayPal, using the e-mail
address ehummingbird@bluedeergallery.com as the receipient.


Installment payment plans are accepted. For purchases
totalling less than $1,000, payments may be divided into 3
equal monthly installments. For purchases totalling $1,000
or more, but less than $5,000, payments may be divided
into 4 equal monthly payments. All purchases of $5,000
or greater may be divided into 6 equal monthly payments.
Items will be shipped upon completion of the payment
schedule.

We prefer to ship via the United States Postal Service, but
will allow the buyer to select their own carrier if desired.
Shipping and insurance costs are paid by the buyer. We
strongly recommend Express Mail or other methods with
tracking for more expensive items. Please note that Federal
Express will not insure any work of art (including art objects)
for more than $500. Also note that UPS will not ship items
with glass. We do not charge for shipping supplies, nor do
we charge a handling fee. Buyers pay actual shipping and
insurance costs only.

We have had tremendous success selling works on-line,
largely because we provide buyers with detailed information
regarding the specific condition of each work of art (including
the framing). We strongly encourage all prospective buyers
to request detail photographs as well as photographs of the
framing for any works on paper. We are always happy to
answer questions regarding artists, the provenance of
our works, and any other information.

For more specific questions and answers, click here to
visit our FAQs (frequently asked questions).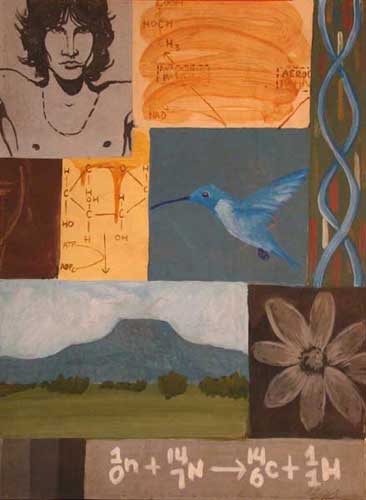 Untitled - Frank Hyde (Onondaga) - Acrylic on paper